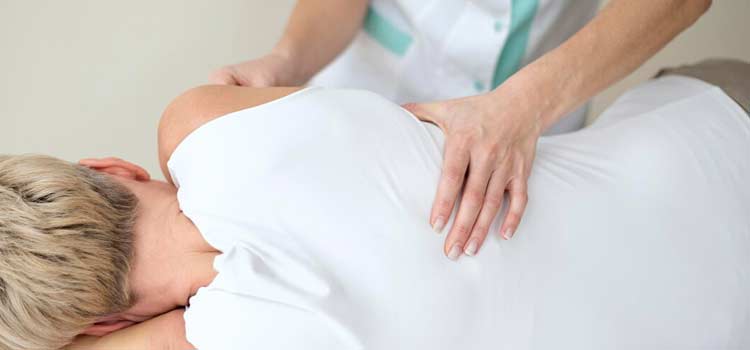 750 teaching hours are alotted per year (attendance in the theoretical-practical classes, study and interaction with the virtual campus, study of the research methodology, study of clinical practice, personal theoretical study).
Program Year 1 (Structural I): Methodological bases. Lumbar, thoracic, cervical, pelvic girdle, elbow, wrist, hand. Scientific investigation, Radiology and medical sciences program I.
Program Year 2 (Structural II): Cervicothoracic and thoracolumbar joints. Ribs. Hip. Knee. Ankle and foot. Integration of the osteopathic concept. Scientific investigation, radiology and medical sciences program II.
Admission Requirements
70% in Grade 12 or Post-Secondary Studies with minimum 50% in each subject
IELTS 6.0 overall with 1 band 5.5/TOEFL 80 /PTE 58
OR
60% in Grade 12 or Post-Secondary Studies with minimum 50% in each subject
IELTS 6.5 overall with 1 band 5.5 or 6 in each module/ TOEFL 85 /PTE 63
1.1.1. Biomechanics, Osteopathic neurophisiolgy, introduction to diagnosis and osteopathic techniques. Clinical Reasoning

Introduction to the history of osteopathy
Osteopathic laws
Osteopathic injuries (somatic dysfunction)
Neurophysiology of metameric dysfunction (neurophysiological basis of osteopathic techniques)
Medular facilitation
Pain
Diagnosis osteopathic
Osteopathic treatment

Lumbar anatomy (general)
Phisiology of the lumbar spine joint
Lumbar pathology (dysfunction)
Osteopathic pathology
Diagnosis
Treatment techniques (osteopathic techniques)

Dorsal anatomy (general and special features)
Joint physiology
Differential diagnosis – medical pathology of the dorsal spine
Muscle pathology
Osteopathic pathology
Diagnosis osteopathic
Osteopathic treatment (back pain, treatment protocols)

Anatomy (general)
Joint physiology (biomechanics)
Osteopathic pathology
Diagnosis osteopathic
Osteopathic treatment
Pubic symphysis

Cervical anatomy (general)
Joint physiology of cervical spine
Cervical pathology (somatic dysfunction)
Osteopathic pathology
Diagnosis osteopathic
Osteopathic treatment

Overview of the shoulder girdle
Glenohumeral joint
Acromioclavicular joint
Sternoclavicular joint
Omotorathic joint

Embryology and histology
Physiology of the spine joint
Rheumatology
Trauma I
2.1.1. Thoraco-lumbar joint

Anatomy
Joint physiology
Osteopathic pathology (somatic dysfunctions)
Diagnosis
Osteopathic treatment

2.1.2. Diaphragm

Anatomy
Physiology
Pathology
Osteopathic diagnosis
Techniques

2.1.3. Hip

Anatomy
Joint physiology
Differential diagnosis
Osteopathic pathology: (somatic dysfunctions)
Osteopathic diagnosis
Osteopathic treatment

Anatomy
Biomechanics
Pathology
Osteopathic pathology
Diagnostic
Osteopathic treatment

Anatomy
Joint physiology
Osteopathic dysfunctions (somatic dysfunctions)
Rotation of the tibia
Injuries of laterality
Tests
Dysfunctions of peroneo-tibial joint
Somatic dysfunctions
Meniscal dysfunctions

2.4.1. Ribs

Anatomy
Joint physiology
Differential diagnosis
Osteopathic pathology
Osteopathic diagnosis
Osteopathic treatment

2.4.2. C5-C6

Anatomy
Joint physiology
Osteopathic diagnosis
Differential diagnosis
Treatment

2.5.1. Lower limb. Foot

Anatomy biomechanics of ankle and foot
Joint physiology
Pathology

2.5.2. Subtalar joint

Anatomy
Joint physiology
Pathology
Osteopathic dysfunctions

2.5.3. Chopard joint. Cuboid and scaphoid

Anatomy
Joint physiology
Dysfunctions
Pathology

2.5.4. Lisfranc joint. Cribs and metatarsals

Anatomy
Joint physiology
Somatic dysfunctions
Medical pathology

2.5.5.Toes

Descriptive anatomy and morphology palpatory
Joint physiology
Osteopathic dysfunctions
Pathology

Cranial and visceral referred pain and relationship with the musculoskeletal system, scientific evidences

2.7. Scientific investigation, radiology and medical condition – Exam in e-learning system)
Copy of Grade 10, High School Diploma or College Diploma (Most current education)
English Test Result (if required) English Requirements/Exemptions
Scan of Passport Front and Back